Taking advantage of SiC and GaN's substantially reduced gate and output charges, as well as advanced soft switching technique and high frequency magnetics, the HDPE research focuses on achieving extreme high power efficiency and power density at the same time. Targeted applications include computing and data center power supply, EV on board charges, wireless power transfer, stationary energy storage devices as well as residential solar inverters. 
HDPE Related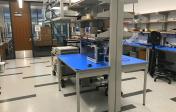 HPDE lab provides various equipments featuring AC power supply, DC power supply, oscilloscope, power analyzer, AC load and DC electronic load.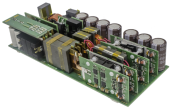 HPDE lab performs the world-class power density technology. Keeping an eye on methods and technology to enhance power density and efficiency, HPDE lab is always focusing on designing more compact and high density power converters.
SPEC Contact Info
Location:
Main Campus: EER 7.874, 2501 Speedway, Austin, TX 78712
Pickle Research Campus: EME Building 133, 10500 Exploration Way, Austin, TX 78758
Email:
Website: