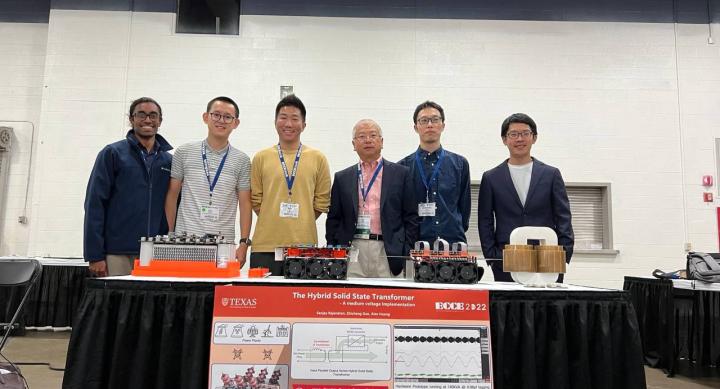 Professor Alex Huang and several researchers from the Semiconductor Power Electronics Center (SPEC) attended the 2022 IEEE ECCE Conference in Detroit, Michigan from 10/09/2022 to 10/13/2022. Dr. Huang also served as a panelist in a special session on the Challenges and Potential of  " Standard Development for Solid State Transformer: An Update On Existing IEEE Standards On Magnetics And New Standard for Solid State Transformer ". Furthermore, he was the chair of the session on " Multi-Level and Multi-Phase Converters".
The following papers of Dr. Huang's group were presented at this conference:
- " Comparison of Partial Discharge Characterizations Under 60 Hz Sinusoidal Waveform and High-frequency PWM Waveform  "
- " A 650 V, 2.1 mohm GaN Half-bridge Power Module for 400V EV Traction Inverter Application  "
- " 15kV/50A SiC AC Switch Based On Series Connection of 1.7kV MOSFETs "
- " A Novel Three-level, Three-phase, Single Stage Solid State Transformer with an Integrated DC Link  "   
- " A 900V/4mohm/80A Bidirectional SiC DC Solid State Contactor (SSC)"
- " Driver Integrated Online Rds-on Monitoring Method for SiC Power Converters"  
- " A novel single-stage AC-AC converter for Hybrid Solid State Transformer"
- " Modular Multilevel Converter Based Topology with Lower Number of High-Frequency Switches"